Meet Priscilla, a successful Bright Future graduate
(We interviewed Priscilla in October 2017. She graduated from high school and Bright Future in 2009.)
About eight years ago Priscilla E. (picture to the right), a vivacious brunette with a direct gaze, was a student at Roosevelt High School who had trouble attending class--except for band; she loved band! Part of the reason for her lack of attendance had to do with family difficulties, but she says now that she had no idea about how to think about the future.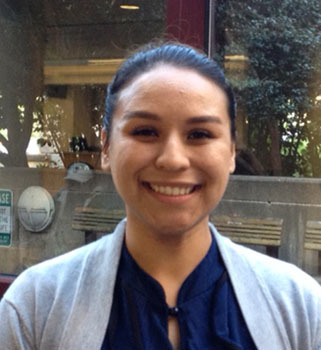 Priscilla says, "But, finally, my counselor told me that I was not going to graduate!  She told me I had three choices: night school, summer school, and classes at SVI (Seattle Vocational Institute). Well, what high school student wants to go to night school or summer school? She told me that if I took classes at SVI, I could make up credits faster and maybe I could graduate."
Priscilla reviewed the program choices. Her parents had had multiple medical issues most of her life so she was familiar with a medical setting. It seemed very natural to her to enter the Medical Assistant program, where she excelled as a 4.0 student.
She is grateful for the personal support she received from Reza and Nancy. She remembers receiving books and a PASS packet for a history credit (provided by Bright Future Dollars for Scholars). "Reza and Nancy were always checking in with me-to see how things were going. It is so important to know that people care about your future and well-being."
Graduation from high school was not the only benefit of Bright Future. After finishing her externship at the University of Washington Medical Center, she accepted a job in the Kidney Transplant clinic. She was elated to be working at the UW Medical Center because when Priscilla's mother had been seriously ill, she had been hospitalized there. At that time, Priscilla had been very impressed with the caring staff.
 "At first," Priscilla says, "I didn't realize how much entering Bright Future would do for me. It was only later that I realized that I was working in a field I loved and had no debt. I was working in a clinic with patients with life or death issues at nineteen! My friends still say things like 'I can't believe where you're at right now.'" At nineteen, Priscilla was able to move out of her parents' house and rent an apartment on her own.
As one might expect, many Bright Future students use the training they get as a stepping stone to other positions. Some are promoted, some go on to further training, or to a four-year college. After four years as a Medical Assistant, Priscilla was offered a position as a Program Coordinator in the kidney donor program.
Priscilla says, "I had been thinking of going to nursing school. I wasn't sure I wanted to be on the administrative end-at a desk. As a MA, I was constantly moving, busy all the time. But the salary was attractive and I knew I could learn something so I took a leap." Priscilla has enjoyed working with the donors--people she finds truly inspiring.
Recently she has become the Patient Care Coordinator, so, in addition to her standard duties, she is now scheduling the surgeries for the kidney donor's nephrectomy and the recipient's kidney transplant.
Bright Future Dollars for Scholars was able to re-connect with Priscilla after she phoned the Bright Future office to ask whether there were any new Medical Assistant graduates looking for a job. Her boss was having trouble finding qualified applicants. We at Bright Future Dollars for Scholars agree: why not try to get another employee as well-trained and as motivated as Priscilla?
What does Priscilla think about BFDFS decision to offer Bright Future at more college campuses? Her response: "Great! The more alternatives that are provided, the better. Not all can go to a four-year college and be successful. One thing I would wish is that high school students could learn about all the alternatives earlier. That would have helped me!" She adds that she has friends who graduated from four-year colleges, but are not happy because they are in debt and are not working in their field.
Is there more Priscilla would like to do? She is considering becoming a Physician's Assistant--which would be a two-year program through the Medical School. She is already lining up recommendations to be admitted!